Live on Kickstarter, Coffee & Tea to Go Go is a dual purpose filter for home (fits in all Keurig machines) and transforms into a portable micro-brewer to go everywhere else!
New York City, New York – September 9, 2022 /MarketersMEDIA/ —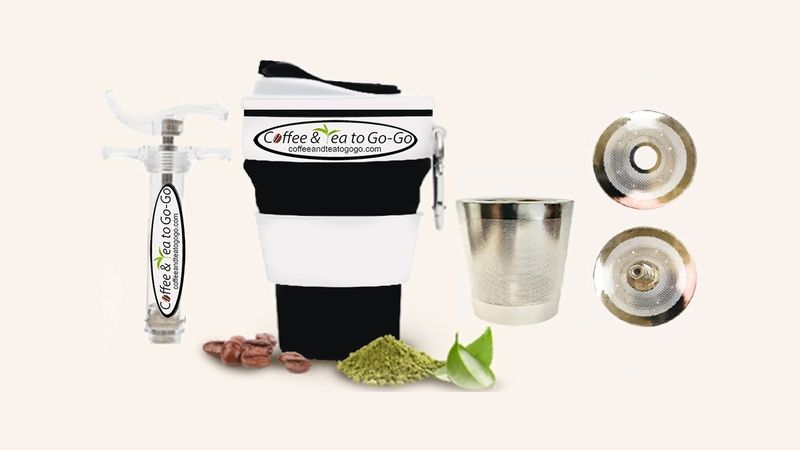 Coffee & Tea To Go Go, the revolutionary portable micro-brewer ensuring the perfect cup of coffee everywhere, is live on global crowdfunding platform Kickstarter and raising funds to bring the project to life.
Each year millions of coffee & tea pods, filters, sachets and cups are thrown away; ending up in landfills or the ocean for potentially decades or longer. Additionally, up to 2.5 hours per week is spent waiting in lines & over $1,200 a year goes towards coffee & tea shops. All said, that's a ton of waste for America's favorite drinks. The Coffee & Tea to Go Go is a breakthrough new dual purpose filter and portable micro-brewer all in one aiming to cut environment waste while saving time and money.
"The onset of Covid changed everything around the world. In New York City, our coffee & tea options within our community became limited to go to the local coffee shop and get our daily fix. Retailers were closing their doors, but the great outdoors were wide open," says founder and CEO Stuart White on the inspiration behind the project. "No longer being able to go into the office, we took advantage of our time. Like a lot of people, we started traveling and getting back to nature; visiting national parks, beautiful mountain ranges and coastlines that the good old USA is known for (We really do live on an incredible continent with so much diversity!)"
The Coffee & Tea to Go Go secret lies in its Dual Purpose Filter— an eco-friendly, reusable and sustainable K-Cup filter that can be used in the home and office, yet also transforms into the lightest and smallest portable coffee & tea micro-brewing product in the world. In only 30 seconds, users can easily brew a cup of coffee or tea. The included siphon/pump combined with the filter allows coffee enthusiasts to control their brew strength richness and density of their flavor. Weighing in at under 7oz, the lightweight Coffee & Tea to Go Go is one of the lightest and most portable coffee and tea brewing products in the world. The size makes it perfect to enjoy a perfect cup— from the office to the great outdoors.
"Share with me and my teams dream to help put Coffee & Tea to Go Go™ in the hands of coffee & tea lovers everywhere! We Are Our World, and can truly make a difference with the environment we share and have a product in Coffee & Tea to Go Go to be used at home in your single cup coffee & tea machine that is reusable, sustainable, eco-friendly and transforms into a portable micro-brewer for on the Go-Go, instead of using coffee/tea pods, sachets, filters and cups for sheer convenience and needlessly throwing this paper and plastic away that pollutes our planet!" adds White.
Coffee & Tea to Go Go is currently live and available to support on Kickstarter: www.kickstarter.com/projects/coffeeandteatogogo/coffee-and-tea-to-go-go
About Coffee & Tea to Go Go
As you can imagine with our name Coffee & Tea to Go Go, we are very passionate about Coffee & Tea! I founded this company to provide great tools/gear for coffee & tea enthusiasts. I'm an entrepreneur/inventor at heart and came up with this idea at the peak of Covid and now it's become reality! I am very excited about Coffee & Tea to Go Go on so many different levels and have sought out a team of designers and engineers to manufacture and produce this product.
For more information on Coffee & Tea to Go Go, please visit coffeeandteatogogo.com
###
Contact Info:
Name: Chris Woods
Email: Send Email
Organization: Coffee & Tea to Go Go
Website: https://coffeeandteatogogo.com
Release ID: 89081396