Opus Immortalizes WBC's Greatest Fights With Bespoke Luxury Publishing Products
United Kingdom – September 6, 2022 —
Opus is a United Kingdom-based company specializing in creating unique luxury publications. One of the latest crowning achievements of this company is the WBC Greatest Fights Opus.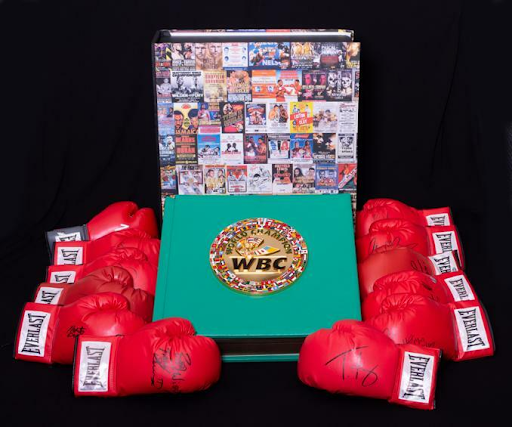 Collecting relevant information, photographs, clips, and interviews from a single sports event is often challenging for a variety of reasons. Cataloging, curating, and publishing a lifetime of achievements, past victories, and personal stories are something Opus professionals do daily.
Opus is a UK-based company on a mission to build the most exquisite experiences for sports fans, delivering definitive publications about famous individuals that have changed history. The company's latest "magnum opus" was the creation of the WBC Greatest Fights of All Time Opus.
The WBC Greatest Fights Opus is a collection of bespoke luxury publications comprised of several special editions, including the exclusive Undisputed Edition, Presidents' Crystal Edition, Champions of Champions Edition, Champions Edition, and Green & Gold Edition.
Each Opus is unique and sports a range of exquisite features. From a signed collection of Champions gloves, over bespoke tailor-made pages, to exclusive packaging, all WBC Opuses are as different as they are magnificent.
The foreword for the WBC Greatest Fight Opus was written by the current WBC Heavyweight Champion of the World, Tyson Fury while all editions are signed by WBC's president Mauricio Sulaimán. In addition to signing each Opus, Mr. Mauricio has also provided insights into previously undisclosed facts, stories, and history about the world's most iconic boxing legends.
World Boxing Council has supplied Opus with a plethora of content that even the most knowledgeable boxing fans couldn't even dream about. Scoreboards, fighter contracts, signed gloves, belts, and other forms of rare memorabilia were added to each WBC Greatest Fights Opus.
To ensure that WBC Greatest Fight Opus is as flamboyant as it is unique, the company collaborated with the world-acclaimed writer Ian Stafford to complete the project. The firm's spokesperson opened up about the vivid graphics, attention to detail, and exclusivity of this Opus, stating the following:
"Each championship fight selected on its own merit has its own chapter, beautifully illustrated with dynamic and iconic fight photography presented on an unprecedented scale. Whilst the Tale of the Tape displays the physical attributes of our protagonists, a stylishly crafted essay written by award-winning writer Ian Stafford recounts the story that made each fight so special, what each fighter brought to the ring, what they had to gain and lose, and ultimately who won the spoils," said Opus's spokesperson.
The Undisputed Edition of WBC Greatest Fights Opus is limited to just one edition worldwide and remains the ultimate offering that Opus as a company has to offer in this field. Featuring two VIP invitation passes to the WBC convention, two ultimate season tickets, the Champions portrait boxset, signed gloves, and a variety of other treats, it remains the finest catalog of World Boxing Council's achievements.
More information about Opus is available on the company's official website.
Contact Info:
Name: Hari
Email: Send Email
Organization: Opus
Address: United Kingdom
Website: https://www.thisisopus.com/
Release ID: 89081157